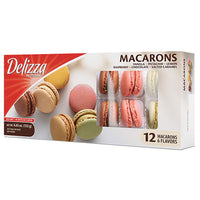 Delizza Patisserie Frozen Macarons, 12 Count
$9.99
Delizza macarons bring the sophisticated spirit of Paris to every table. Crafted in a variety of cheerful colors and beloved flavors, our almond meringue-based cookies are made with only the finest ingredients. These little moments of delight await your indulgence in the freezer, ready to be shared with friends, family, or savored just by you. We won't tell.
Delizza Macarons

Delicate almond meringue cookies

12 Macarons

Two of each of these assorted flavors: Vanilla, Pistachio, Lemon, Raspberry, Chocolate, Salted Caramel

Ready to eat, just thaw and serve!