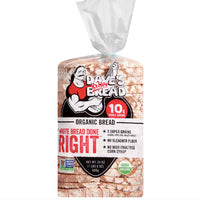 Dave's Killer Bread® Organic White Bread, 24 oz.
$7.98
Dave's Killer Bread is built on the belief that everyone is capable of greatness. What began as one man's journey has turned into so much more. Today, one third of our employees at our Oregon bakery has a criminal background, and we have witnessed first-hand how stable employment sparks personal transformation.
Inspired by Dave's love of Blues music, Blues Bread® is rolled in organic blue cornmeal, giving it a crunchy crust and sweet flavor.
Our take on white bread is an artisan loaf with five super grains, 10 grams of whole grains, and no artificial anything.
Blues Bread® is Always Made with Killer Taste and Texture
We're Bringing White Bread Back.
No Bleached Flour

5 Super Grains (Quinoa, Spelt, Rye, Millet, Barley)
Organic