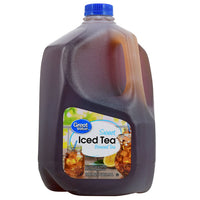 Great Value Sweet Brewed Iced Tea, 128 oz.
$4.45
Pour yourself a glass of Great Value Sweet Iced Tea 128 fl oz at any time. It has a little sugar and is brewed with selective blend of leaves to deliver a crisp, refreshing taste in every sip. This Great Value iced tea is best served chilled on a hot summer's day. Enjoy it as is or personalize it with a freshly sliced lemon wedge. It's also fun to switch it up and mix this 1 gallon iced tea with lemonade for a refreshing drink. The large bottle makes it easy to stock up on your favorite beverage. Quench your thirst with this Great Value iced tea. Enjoy it with a sandwich for lunch or with your dinner. Great Value products provide families with affordable, high-quality grocery and household consumable options. With our wide range of product categories spanning grocery and household consumables, we offer you a variety of products for your family's needs. 
Brewed tea
1 gallon iced tea is a refreshing drink
Serve chilled over ice
Great Value iced tea is kosher
Net weight 1 gallon
Best when chilled
Enhance with lemon juice
Enjoy with friends and loved ones
Brewed with high-quality tea leaves for best taste.