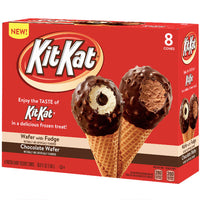 Nestle Kit-Kat Ice Cream Cones, 8 Count
$8.97
KITKAT Wafer with Fudge & Chocolate Wafer Ice Cream Cones Variety Pack 8 count Box:
Dessert Cones, Chocolate Wafer/Wafer with Fudge
New! Enjoy the taste of KitKat in a delicious frozen treat!
Crispy sugar cone. Rich chocolatey lining. Chocolatey nugget.
Creamy & delicious.
Dipped in chocolatey coating & crisp wafer pieces.