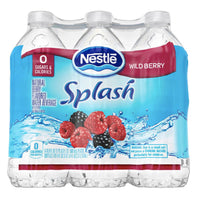 Nestle Splash Wild Berry Flavored Water, 16.9 Fl. Oz. 6 Ct
$4.98
Quench your thirst with Nestlé Splash water beverages. Refreshing and delicious, this flavored water offers a 0-calorie alternative to sugared beverages.
Splenda® sweetener combined with natural fruit flavors creates a refreshing, delicious taste.
Made with purified water.
0-calorie ingredients let you enjoy a healthful beverage.
Eco-shape bottle is easy to take with you on the go.