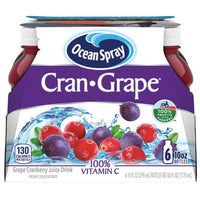 Ocean Spray Cran Grape Juice, 10 Fl Oz, 6 Count
$6.94
Ocean Spray Cran-Grape Juice Drink is delicious, while providing 100% of your daily value of vitamin C per serving. The crisp, refreshing flavor of cranberry and the juicy taste of grape make a delicious juice drink that is fat-free and low in sodium! Enjoy this delicious juice drink in a family-sized container any time of the day for any occasion. 
100% Vitamin C.  
Grape cranberry juice drink  
6-10 fl oz (295ml) bottles.