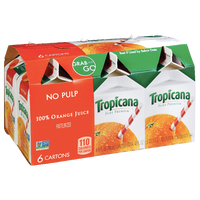 Tropicana Pure Premium Orange Juice, 6 Ct
$7.78
The perfect combination of taste and nutrition! Tropicana Pure Premium Original is 100% pure Florida orange juice, squeezed from fresh-picked oranges and never from concentrate. No wonder its the #1 orange juice brand.
100% orange juice thats squeezed from fresh oranges.
No added sugar, water, or preservatives.
INGREDIENTS: 100% Orange Juice.