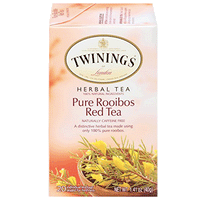 Twinings of London Herbal Tea, Pure Rooibos Red Tea, 20 Ct
$5.78
A distinctive herbal tea expertly blended using only 100% pure rooibos to deliver a flavorful tea with an uplifting aroma and naturally sweet taste.

100% natural ingredients.
A natural source of antioxidants.
Individual tea bags sealed for freshness
Twinings of London Herbal Tea Pure Rooibos Red Tea - 20 CT.